How do I check in tickets at my event?
To check in tickets, you must be using the latest version of the glistrr app.

Please refer to the screenshots at the bottom of this page throughout this walkthrough.
1. Open the glistrr app from your home screen and log in with your credentials.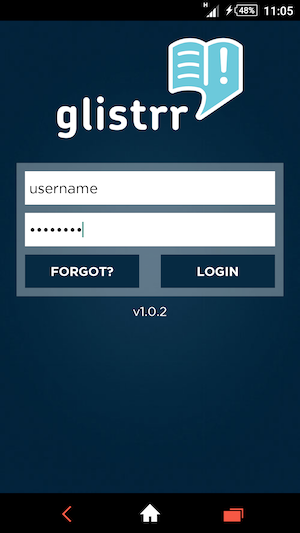 2. Once logged in, click the event you wish to view.
3. Automatically the 'Guestlist' tab will be selected. Switch across to the 'Tickets' page by clicking the option in the menu
4. You should now be on the tickets homepage (Screenshot 4). Click the 'Check-in' option to continue.
5. The next screen will show the list of guests who purchased a ticket for the event.
6. To scan using the device's camera, select the scan button at the bottom of the check-in dashboard. This will load the scan utility (see Screenshot 6).
7. When you scan, the device will vibrate displaying either a green or red screen. Green means the ticket is valid and should be allowed entry.
8.Red means there's been an error or the ticket is invalid, and will usually give you an alert to explain the situation. You can enable the torch by selecting the 'light bulb' icon .
9. After you have admitted the guest, press the 'OK' button and continue to scan the next ticket.
---